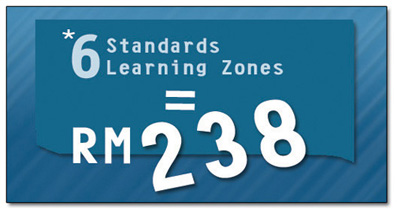 Introduction
Smartbees Portal is a dedicated learning portal developed for primary school students. Equipped with the latest educational technology, it enables students to resolve conventional educational problems like forgetting what they had just learned and also unbalanced acquisition of the fundamental skills in listening, speaking, reading, writing and etc.
Since primary education is an important stage for developing the foundation in learning any skills. The lack of input and exposure to the above fundamental skills and knowledge during the primary years might jeopardize studentsí» future in the learning or working field.
Smartbees Portal is an online educational portal which is suitable for primary school students from standard 1 to standard 6. There are 6 learning zones in Smartbees Portal. One of the learning zones is
e-Revision, which complies with SJKC syllabus guidelines and includes 5 main subjects: Bahasa Malaysia, English Language, Chinese Language, Science and Mathematics. Moreover, there are 5 other zones included in this package which are Q-Bank, UPSR, e-Radio, Edutainment and e-Magazine. This complete package now only cost RM238 for 12 months. As long as you have a computer at home which can connect to Internet, you can bring Smartbees Portal home.